Patrick J. O'Neill, MD
Useful Links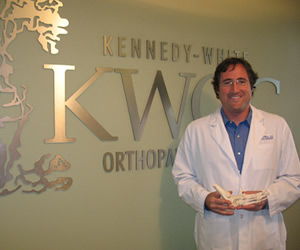 American Academy of Orthopaedic Surgeons (AAOS)
The latest source for Legislation, educational, health care policy and research information. The site includes the bylaws and position papers of the AAOS, and the latest federal and state laws enacted that pertain to the practice of orthopaedics and medicine.
American Orthopaedic Foot & Ankle Society (AOFAS)
The American Orthopaedic Foot & Ankle Society (AOFAS) is an organization of more than 1,800 orthopaedic surgeons from the US and abroad who specialize in the medical and surgical treatment of injuries, diseases, and other conditions of the foot and ankle.
American Board of Orthopedic Surgery (ABOS)
The American Board of Orthopaedic Surgery, Inc. functions to serve the best interests of the public and of the medical profession by establishing educational standards for orthopaedic residents and by evaluating the initial and continuing qualifications and knowledge of orthopaedic surgeons.
Kennedy-White Orthopaedic Center
Patient care is our highest priority. Whether it is through our new state-of-the-art facility, our broad range of orthopaedic specialties, or our caring staff, we are confident that you will feel at home at our office. You may be from around the corner or halfway around the world, as our patients are truly international and come here to Sarasota for world-class orthopaedic care. We are dedicated to the treatment of all your orthopaedic needs. Our goal is to improve your level of health with our comprehensive evaluation and expert care.